$
100
Join 6,229 Happy Learners
A fundamental guide to marketing strategy
Welcome to Marketing Strategy, a collaboration between WARC and Cannes Lions.
This course will examine the theory and practice behind successful marketing strategies and equip you with the necessary skills to plan, execute and measure your own campaigns.
You will learn the fundamental practical methods covering everything from the research phase, to objectives, KPIs, customer journeys, to briefing and evaluation.
The best news is you'll be learning from some of the industries best strategic leaders as well as getting inspiration from the best case studies and research papers in the industry from Cannes Lions and WARC.
The course is designed in plain English so no prior experience required, upon passing you'll get a WARC / Cannes Lions certification in Marketing Strategy.
How does it work?
Each short course plays like a game, mixing videos, images, links and stories
You can take as long or short as you like (there are no time limits and you can start anytime)
Select questions are marked by real people + we provide help/feedback if you get stuck
Upon completion you get a signed and dated certification that can also easily print/share
Who is this for?
Anyone wanting to get into a marketing strategy role
Marketers and creatives who want a better understanding of the world of strategy
This is a fundamentals course, no previous experience in Strategy required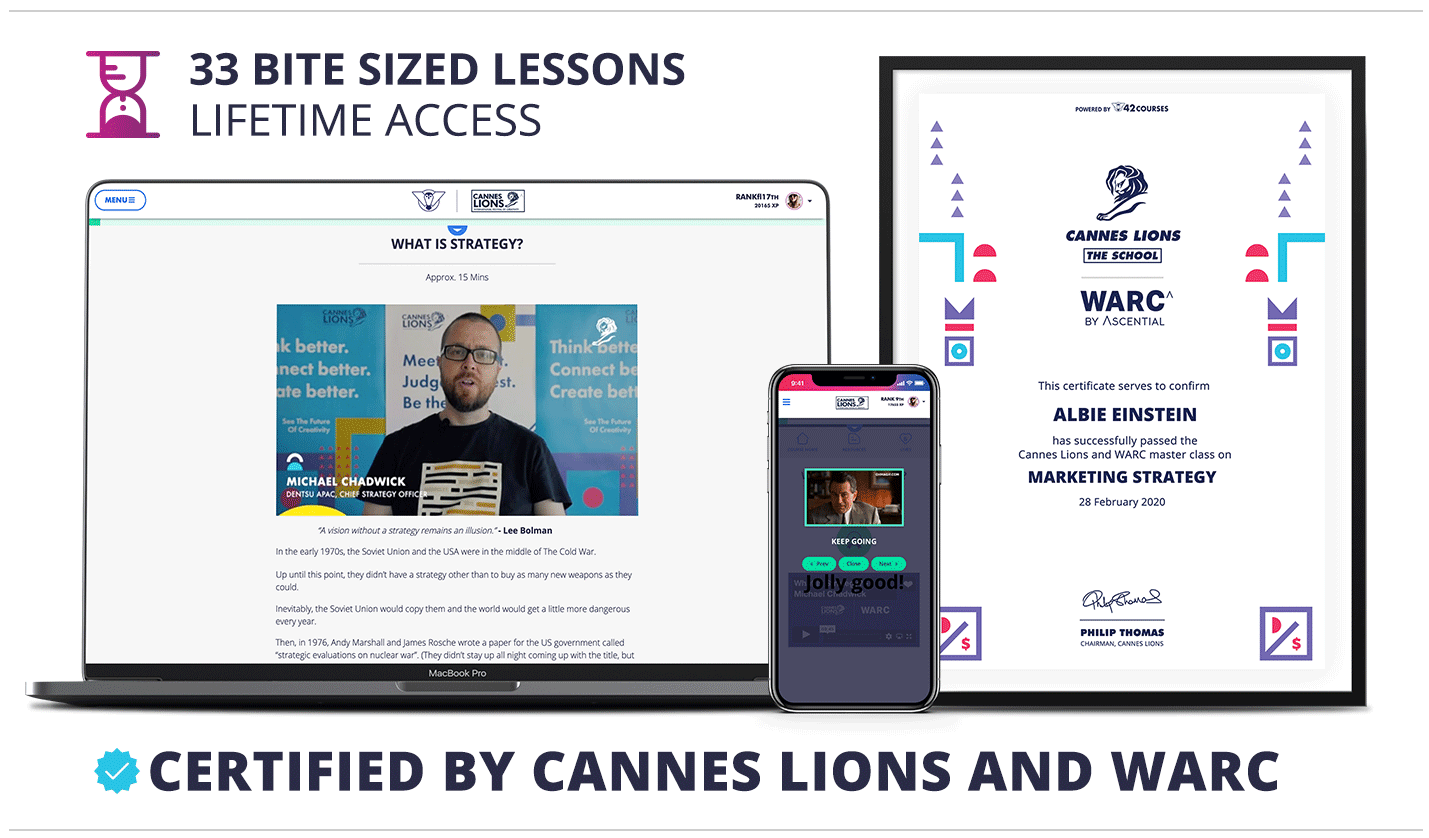 EARN CERTIFICATIONS FROM LEADING BRANDS
COLLECT BADGES FOR BEING SMART
REAL TIME MARKING ON LESSONS
CLIMB THE INTERNATIONAL LEADERBOARD
Sarah B.
United Kingdom
The gamification format makes the courses addictive and so much easier.
Magnus H.
Germany
So glad I signed up! The variety of techniques to test your understanding is great and the team behind the scenes even better.
Bradley C.
Australia
I was unsure of this at first, however, learning on your time, in a fun way, works for me!
Andra N.
United States
Impeccable learning experience. The material is carefully curated and extremely engaging.
Diana M.
South Africa
Glad I took the leap! Not only educational but also entertaining, which is still very rare these days.
Chapters
Understand what marketing strategy is, how it works, why it's important and what you'll be getting up to in this course.
Here we show you how to do the research so you can find the right answers and insights for your brand.
Here we'll show you how to work out and set the right KPIs and objectives for your marketing.
A simple guide so you can create and use customer journey maps to better plan your path to success.
Learn how to make great briefs and work with different teams smoothly to give your strategy the best chance of victory.
What does success look like? How to define it? What are the different ways to measure it?
A look at the skills you need to develop in the long-term so you can become a strategic genius.
All access pass
Get access to all current and upcoming courses for 1 year
$
300
Get Access Now
Cannes Lions pass
Get access to all current and upcoming Cannes Lions courses for 1 year
$
230
Get Access Now
Where our students work
Alumni companies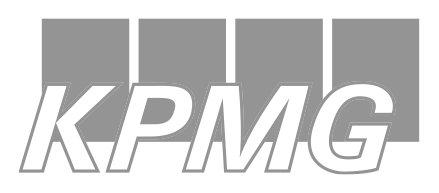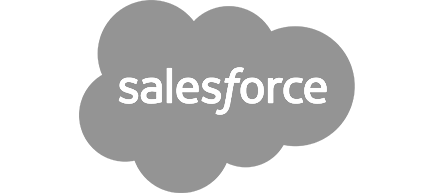 Special features
Get opinions from peers world-wide
Use any device, any time
Enjoyment guaranteed or your money back
24/7 support - ask us anything, any time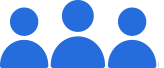 Get access for your team today
Quickly and easily add learners, track team progress and save time upskilling people.
What people are saying
Jan M.
Czech Republic
Great Marketing strategy 101 course - everything you need to know to start your carrier as a strategist. This was an amazing course. One of the best courses on your website. It is full of interesting case studies and it is also well structured.
Johanna A.
United Kingdom
Great course. Loads of interesting case studies and helpful links. Have enjoyed some of the other courses and this one was similarly good.
Dave D.
South Africa
Really enjoyed this course. Not quite what I expected but in a good way. Good mix of case studies, videos and helpful other stuff.
Stephen B.
United Kingdom
On the whole, the course is good, I spotted a few typos and ambiguities which I communicated to the team and now seem to be fixed. As a learning platform, you are closer to perfect than you think. My daughter's Nec GCSE courses are a nightmare in comparison.
Nick C.
Germany
Helpful course if you want to learn more about the subject. It's not intimidating too which is great for those worried it might be. Some great marketing examples in there to learn from.
Magnus H.
Germany
A helpful guide for those new to the world of strategy, the case studies alone are invaluable and the extra resources and templates were helpful too.
Aiden C.
United Kingdom
A great easy to understand course on strategy. It was a good balance of difficulty and has made me feel more confident in my job in general as a marketer. Also loved some of the case studies!